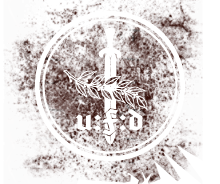 For infos, bulletins or dispatches you can write to: kontakt@occidentalcongress.com

Nell'estate calda provo una gioia immensa, quando la parca pace della terra viene uccisa dalle tempeste...
Ezra Pound
Store
INSTRUCTIONS
ITALIA: I pulsanti Paypal sono relativi all'acquisto del singolo articolo (il prezzo include già le spese di imballo e spedizione). Per l'acquisto combinato di più articoli potete contattarci a questo indirizzo.
EUROPE: Paypal buttons are for single item purchases (price includes shipping and handling). In case of multiple purchases please email us for combined shipping costs.
INTERNATIONAL: Non-European buyers are more than welcome, just email us first for postage rates.
WOLVES AMONG SHEEP
by Davide Maspero e Max Ribaric
# Format: softcover (standard or limited edition of 299 units)
# Pages: 576 pages (heavily illustrated)
# Size: mm. 160 x 230 x 35
# Language: english
# Publisher: tsunami edizioni
# Publication date: september 25, 2015
You can place an order via e-mail to: wolves_info[at]tsunamiedizioni.it
Or via Facebook messages on this page: WolvesAmongSheepBook
OCCIDENTAL CONGRESS n°3 - 2014
edizione limitata
# Editoriale: L'arma più forte
# Siegfried: Il potere dei segni
# Dinamo Innesco Rivoluzione: La pace uccide anche te
# Prussian Blue: Lasciate che le bambine...
# Anima Arctica: Patria Finlandia
# Mitologia Alpina: L'uomo selvaggio
# Forseti: Il tempo del vento
# Guerra Civile Americana: The Singing War
# Propaganda: Widerstand
# Sköll: Svfficit animvs
# The Mitford Sisters: Sangue ribelle
# Ostara: Il lato oscuro del paradiso
# BarlowGirl: Donne di Dio
# Recensioni: Carta, pellicola, vinile, policarbonato e totem derivati
# Ende: Adesso viene il bello
Inserto speciale allegato alle prime 79 copie. ESAURITO!
Special insert included with the first 79 copies. SOLD OUT!
COME LUPI TRA LE PECORE
by Davide Maspero e Max Ribaric
# Format: softcover or hardcover (limited to 199 units)
# Pages: 560 pages (heavily illustrated)
# Size: mm. 160 x 230 x 30
# Language: italian
# Publisher: tsunami edizioni
# ISBN: 978-88-96131-48-0
# Price: €22,00 (plus postage)
# Publication date: february 15, 2013
Edizione normale / Regular edition: Buy here >>
Edizione limitata hardcover / Limited hardcover edition SOLD OUT!
OCCIDENTAL CONGRESS n°2 - 2011
edizione limitata
# Editoriale: Tutto ciò che rimane
# Ianva: In stato di grazia
# Sacrifici in Musica: Suoni di morte
# Àrnica: Custodi del vecchio mondo
# Volk Club: Appunti per uno storytelling dello spirito
# Nostalgia: Robert Ferbrache
# Savitri Devi: La missionaria di Hitler
# Propaganda: Indovina chi viene a cena?
# Nil By Mouth: Southern hostility
# Recensioni: Carta, pellicola, vinile, policarbonato e totem derivati
# Waldteufel: L'eterno viandante
# Ende: Non c'è più religione
OCCIDENTAL CONGRESS n°1 - 2010
edizione limitata
# Editoriale: Un ritorno al presente
# Andrew King: Dio salvi la regina... ma salvi pure il re!
# Phase II: L'ultimo bagliore del sole
# Scivias: Scito Vias Domini - L'enigma di una passione d'Oriente
# Alessandro Papa: In udienza dal Papa
# Sixth Comm: L'arcano incantatore
# The Lindbergh Baby: Hoodwinked
# Darrell W. Conder: Might Is Right!
# Blood Axis: Another Day of Blood
# Actus: L'essenza del Mandala
# Recensioni: carta, pellicola, vinile, policarbonato e totem derivati
# Ende: La musica è finita
DAY OF BLOOD by Max Ribaric
edizione limitata
# Softcover: 226 pages (heavily illustrated)
# Size: mm. 190 x 240 x 15 (large format)
# Language: italian (interview in english/italian)
# Publisher: occidental congress
# Catalog number: ufd-9808-01
# Price: €25,00 (plus postage)
# Publication date: june 11, 2008
KONGRESS T-Shirt
# 100% high quality brown heavy cotton - size: S / M / L / XL
# Price: € 16 (plus postage)

Check below for details:
| | | |
| --- | --- | --- |
| SIZE (in centimeters) | WIDTH | LENGTH |
| S - small | 46 | 68 |
| M - medium | 52 | 71 |
| L - large | 54 | 74 |
| XL - extra large | 58 | 76 |